PERFORMANCE SPARK PLUG Suzuki GT K OR TR TS 50 UX50 W Zillion +3% HP -5% FUEL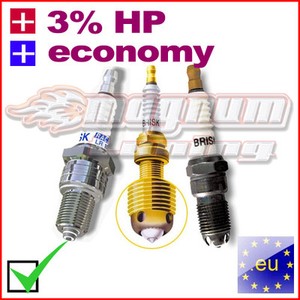 ---
Claims

Delivers 3% gain in horsepower and torque Notably improves throttle response Improves acceleration throughout the RPM range You can realize +5% fuel mileage improvement Increases firing energy by up to 15% Flat spots cease

Features

360-Degree Hemispherical Multi-Spark Electrode Design (Depending on engine specs electrode design varies.) No Carbon Deposit Easier Cold Start Symmetric Spark Discharge No Gapping Required

High Notes Brisk plugs come with slightly different 360-degree electrode designs according to reliable and extensive tests were made to allocate most suitable performance cross reference. Please check variations in photo gallery. Each design warrants the same gains hence 360-degree electrode. Gold plating on some plugs neither refers to different material nor affects the claims. Depending on engine specs electrode design varies. Customer receives that dyno-proven design best fits to the current application according to tests.

PLUGS SOLD INDIVIDUALLY. When purchase please select the proper quantity according to the number of engine cylinders. You will receive one plug unless you choose 2,3 or more plugs at checkout. Please use Shipping Calculator to calculate combined shipping. If you were unsure how many plugs needed don't hesitate to contact our Tech Support 7 days a week.

Compatbility This spark plug fits the following motorcycles. Exact match is mandatory regarding both year of plate and model name. Other year and suffix like R, SR, etc. might make sense. Not sure? Feel free to ask! Please don't add notes at checkout about different models.

Model
Suzuki AE50 1998-1990
Suzuki AE50 R 1998-1990
Suzuki AH50 Address all
Suzuki AP 50 all
Suzuki AP 50 Address all
Suzuki AY 50 AC Katana all
Suzuki AY 50 W LC Katana all
Suzuki AZ 50 V Katana 97
Suzuki CP50 C 1992-1985
Suzuki CP50 CHF 1992-1985
Suzuki CP80 CHF 1993-1985
Suzuki CR50 DC all
Suzuki CX50 DF 1993-1985
Suzuki CS80 Roadie 1987-1983
Suzuki FR80 1983-1976
Suzuki FR80 B 1983-1976
Suzuki FR80 D 1987-1984
Suzuki GT50 1980-1977
Suzuki K50 1985-1971
Suzuki OR50 1980-1979
Suzuki RV 90 Van Van 1981-1973
Suzuki TR50 2000-1998
Suzuki TS50 1994-1979
Suzuki UX50 W Zillion all
Suzuki UX50 Zillion 2002-1999

Specs

HEAT RANGE: equivalent to factory IGNITION MODIFICATION: not required MAINTENANCE: not required GAPPING: not required LIFESPAN: 25K mile - 40K Km or 500-600 hours

To see heaps of real Customer reviews visit Magnum Tuning Web Site. Support

Should you be uncertain which spark plug to purchase feel free to contact our Online Tech Support 7 days a week.

Working Theory 360-degree electrode design provides an unrestricted full potential spread of the flame front, which is accomplished by a state-of-the-art retracted ground electrode. Unlike conventional spark plugs, where discharge is constrained by the ground electrode, Brisk Racing Spark Plugs feature an electrode layout where the ground electrode is retracted, so the spark discharge occurs at the very tip of the spark plug. Traditional spark plugs' ground electrodes restricts the natural spherical expansion pattern of the flame front whereas our High Performance Spark Plugs take the advantage of surface spark discharge, along with retracted ground electrode designed, to ensure maximum spark exposure and unrestricted flame front expansion. Due to stronger spark discharge, a spark can more easily trail along the surface of the insulator than having to break through the air gap. Roughly 70% of the spark travels between the electrodes along the surface of the insulator, also keep in mind that the spark front line is drawn on the whole perimeter of the ground electrode in 360-degree, thus the volume of the spark discharge is maximized, while not requiring much higher ignition energy supplied by the ignition system. Therefore this performance spark plug works in conjunction with factory ignition and no upgraded coil or performance ignition lead is mandatory accordingly. 360-degree multi-spark spark plugs use the highest quality materials, are produced in European state-of-the-art manufactories and in a never-ending effort to improve upon success, Brisk has also developed electrode technology that is far superior to all others in function and form. Thanks to the unique and patented 360-degree electrode design, higher engine horsepower, awesome throttle response and acceleration are achieved through better fuel energy utilization. These performance spark plugs are designed to help you improve HP, torque, kick-out time and acceleration to further increase fuel efficiency. Our racing plugs' design ensures optimum mix ignition in the cylinders and warrants extra HP compared to traditional projective tip spark plugs and other brand performance plugs. The 360-degree electrode spark plugs outperform even the iridium spark plugs in regards to firing energy, extra power as well as durability. While traditional spark plugs' constantly thriving deposits spoil the spark discharge, no soot will be deposited on 360-degree spark plugs' electrodes, because throughout the life of the plug the gap size remains as it was originally, apart from normal wear and tear. Because the spark plug gap is not shielded by the conventional side electrode, exposing the mixture to physically unlimited ignition, combustion speed will increase and flame front spread can take place more easily, and especially more quickly. Easy engine start is attributed to this effect. The subsequent increase in medium effective pressure within the engine cylinder also contributes to increased engine power and optimum fuel mileage. These multi-spark plugs are made for extreme operating conditions and high output; there is simply no competition for the Brisk 360-degree spark plugs. Tech Training It's time to tune up your bike's ignition, so assumingly first you head to surf search engines seeking the best racing series plug. In most cases, you'll see at many different types of sparkplugs, from different manufacturers. Will it be Copper, Platinum or Iridium spark plugs? How do you know which are the best sparkplugs to purchase? Simple. Pick that one has the most persuasive working theory on achievement of your power output wise goals. We are reluctant to believe, you will ever find better performing plug on the market over these Brisk performance plugs. Brisk's patented 360-degree spark plug electrode design improves upon the phenomena that caused racers to cut ordinary electrode spark plugs in order to increase the number of sharp edges and improve the spark discharge. Given the short time interval for combustion to occur, engineers have always known that the faster you can get the flame to the piston from a spark plug, the better. The more quickly the flame kernel travels toward the combustion area, the better. The 360-degree design is actually open all around, so the spark travels directly toward the air-fuel mixture which maxes out the burn. The end result is a faster flame kernel, a more complete combustion, increased horsepower and higher fuel efficiency. All around the best designed spark plug for enthusiasts looking for a replacement spark plug; the latest technology used in our performance plug allows for increased fuel efficiency by as much as 5% by ensuring reliable combustion events all while delivering smooth engine operation, added performance and driving characteristics over other spark plug electrode designs.

Required Skill & Tooling

Do-It-Yourself - Basic Skill Required Basic Hand Tools Required Packing List Performance Spark Plug (plugs sold individually) Installation Instructions

Terms of Sale

Item is shipped in 6 business hours after payment received. ETA is 4 up to 7 business days for domestic US orders a and 7 up to 10 business days for international orders, after payment is received/cleared. Exceptions may apply. Detailed instructions included in the package. We run professional Technical Support via emails 7 days a week. Payment must be finalized within 7 days after the auction ends. Returns accepted for new items in 30 days after receipt of merchandize. Money back warranty is neither expressed nor implied. No Pick-Up service available. We reserve the right to cancel purchases from any er with a history of negative feedback/Non-payment.

Company Profile

On the market for powersport and automotive performance parts, Magnum is widely acclaimed as a leader. For the Magnum performance part development team, it is crucial to have high quality standards, therefore we strongly believe in the importance of employing top notch technology to all of our reliable tuning upgrades and efficient fuel savers. Our devoted crew members of certified engineers, mechanics and technicians are actively involved in racing and high performance, and have worked tirelessly to earn their reputation. We cater to a huge array of vehicles, vessels and industrial applications. We stake our 23-year reputation for excellence on every upgrade we sell, a claim made possible only through extensive testing, stringent and rigorous assurance methods and thorough bench-testing.
NOR15LGS